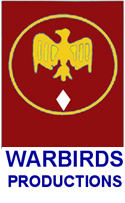 European customers can order direct from Vasko Barbic at;



WARBIRDS PRODUCTIONS

Woodway, Claredon Road

Alderbury, Salisbury

Wiltshire, SP5 3AT England.

Phone: 00441 722 710 574

( timsah@onetel.com )



Payment should be in Sterling Pounds via a cheque drawn on a British bank only, or via International Postal Orders, made to B. BARBIC.

For P&P add 25% to non European Union countries. For Europe and the UK add 10%.

Item # / Description / Price in British Sterling Pounds

1/32nd SPITFIRE and SEAFIREconversion sets

A3200 Gullwing correction part for Revell (early) Spitfire Mk.I 6.00

A3201 Spitfire PR I F 10.00

A3202 Accurate seat 5.00

A3203 Seafire Mk. III / XV / XVII wings 13.00

A3204 Accurate fishtail exhausts for Mk I, II ,V, VI N/A

A3205 Aboukir filter & enlarged chin N/A

A3206 Seafire Mk I / II / III / early XV fuselage arrester hook TBA

A3207 Spitfire Mk. VII conversion kit 29.00

A3208 Spitfire Mk. VIII conversion kit 27.00

A3209C Spitfire Mk. IX C conversion kit 23.00

A3209E Spitfire Mk. IX E conversion kit 25.00

A3210 Spitfire Universal C wings 13.00

A3211 Small overload slipper tank 5.00

A3212 Spitfire Mk. XII C conversion kit 23.00

A3213 Spitfire / Seafire wheels with hub cap 5.00

A3214C Spitfire Mk. XIV C conversion kit  28.00

A3214E Spitfire Mk. XIV E (bubble canopy) conversion kit 32.00

A3215 Seafire Mk. XV (early) w/fuselage arrester hook 27.00

A3215L Seafire Mk. XV (late) w/ broad chord rudder & sting hook 28.00

A3216 Spitfire Mk. XVI E bubble top conversion kit 30.00

A3217 Seafire Mk XVII Available 2003 TBA

A3218 Spitfire Mk XVIII conversion kit 32.00

A3219 Spitfire PR XIX (type 389) 27.00

A3220 Spitfire spinner and prop. blades MK 22/24 7.00

A3221 Spitfire MK 21 conversion kit 28.00

A3222 Spitfire MK 22 / 24 correction kit 25.00

A3223 Spitfire three spoke wheels (postwar) 5.00

A3224 Rotol long spinner & flared blades for Mk V b/c N/A

A3225 Spinner w/broad-chord blades for Hydromatic prop. N/A

A3226 Sting arrestor hook and broad-chord rudder for Seafire XV / XVII N/A

A3227 MK 21 wings (Revell or Hasegawa) Available 2003 TBA

A3228 Spitfire float plane Mk. V SPECIAL ORDER 40.00
 
A3229 Spitfire float plane Mk. IX SPECIAL ORDER 55.00

A3230 Wide cannon blisters x 4 for twin 20mm cannon (2 styles) N/A

A3231 Prototype and First Mk. I Spitfires prop unit 6.00

A3232 Weybridge prop for Early Mk I Spitfires N/A

A3233 Aboukir filter & enlarged chin (later Gleed style) 8.00

A3234 FAA teadrop belly tank w/ mounting struts & fuel feed 7.00

A3235 Accurate Early Mk I fuselage frame (no head armor / volt.reg) N/A

A2336 Mk Vc conversion set 18.00

A3237 Undercarriage handpump for early Mk I N/A

A3238 First production Mk I set 22.00


HAWKER HURRICANE

B3201 Wheel wells & seat 8.00

B3202 Mk II D 40mm cannon gondola N/A

B3203 Mk I Rotol wood prop. blades N/A

B3204 Mk II prop. blades N/A

B3205 Mk IIA/B correction set 20.00

B3206C Mk IIC correction set 23.00

B3206D Mk IID correction set 26.00

B3207 Wing mounted auxilliary fuel tanks 8.00

B3208 Early Mk I fabric covered wing TBA

B3209 Watts 2 blade wood prop. for early Mk I N/A

B3210 Early Mk I DeHaviland metal prop. blades w/ short spinner N/A

B3211 Mk IV conversion set 28.00

B3212 Elevator and rudder set N/A

B3213 Vokes tropical air filter N/A

B3214 Five spoked wheel for early production Mk I N/A

B3215 Early Mk I conversion set (Watts prop) 20.00

B3216 Early Mk I exhaust stubs N/A

B3217 Accurate u/c doors N/A

B3218 Early production Mk I set (DeHavilland prop.) 20.00

B3219 Late production Mk I set (Rotol prop.) 23.00

B3220 Late production Mk I tropical 22.00

B3221 Mk IIA/B tropical 25.00

B3222 Mk IIC tropical 28.00

B3223 Mk IID tropical 31.00


DEHAVILLAND MOSQUITO

C3201 Fighter/fighter bomber solid nose (one piece) 8.00

C3202 2 stage Merlin cowlings with 6-stub exhausts & paddle blades 21.00

C3203 Mosquito bulged bomb bay (vacuformed) 6.00

C3204 Mk IV bomber clear vacuformed canopy, nose blister. etc. 2.00

C3205 Bulged side panel clear vacuformed canopy TBA

C3206 FB VI fighter/bomber clear vacuformed canopy TBA

C3207 Blistered style PR clear vacuformed canopy TBA

C3208 50 gallon slipper tanks TBA

C3209 100 gallon slipper tanks TBA


VOUGHT CORSAIR

D3201 F4U-2 radar pod 5.00

D3202 Broad-chord prop blades 4.00

D3203 Birdcage canopy (2 styles) with resin insert TBA

D3204 Brewster Duramold centerline fuel tank TBA


HAWKER TYPHOON

E3201 Underwing tanks 6.00


1/24th SPITFIRE and SEAFIRE conversion sets

A2401 Mk Vb accurate cannon barrles (Airfix kit) 5.00

A2402 Universal C wing TBA

A2403 Accurate seat w/ mounting brackets (Airfix or Trumpeter) 9.00

A2404 Rotol flared blades w/ spinner and backplate 8.00

A2405 Aboukir tropical filter TBA

A2406 Correct aerial mast, mounting flange & fuselage bakelite plate N/A

A2407 Mk VII conversion TBA

A2408 Mk VIII conversion TBA

A2409 Mk IX conversion TBA